Vriksha Yoga is a unique community of modern-day yogis who provide an atmosphere of purposeful inclusion where safety, value, and caring for our students takes precedence. A climate that fosters intricate connections between the mind, body, soul, spirit, and breath, while marrying knowledge and practice of yoga asanas with profound yogic philosophy. We understand yoga is a personal expression, and we help bring that to life through an enlightening environment.
Vriksha Yoga is a destination for immersing in authentic yogic culture and discipline, while specializing in delivering a more meaningful and empowering experience for all, beginners and masters alike. With expert instruction in Western English paired with our Canadian background and deep-rooted Indian heritage, it allows for seamless communication and teaching of inherent yogic philosophy to our students.
Offering a strong foundation, we invite yoga practitioners from around the world to share their transformative journey with us. Come learn, teach, rejuvenate, heal, and advance human consciousness.
What to expect
Genuine yoga experience embedded in authentic Eastern yogic traditions with a profound understanding of Western society/ideals and modern mindsets.
Clear and meaningful communication of yogic philosophy through expert English instruction and tailored individual attention.
Family-focused hospitality designed with comfort in mind for all aspects of your visit.
Good hearted yoga professionals with a humanitarian nature, sharing our knowledge and support for your yogic development, personal well-being and safety, cultural interest, excursions and travels while visiting India.
Vriksha Yoga is your home away from home, your very own yoga happy place.
Our Mission
At Vriksha Yoga, we strive to help students become well rounded in the yogic way of life by offering a program that marries yogic philosophy with knowledge of and practice of asanas. Yoga is a way of life and we thrive on sharing education to help yogis elevate their own consciousness and deepen their own awareness, as well as be awakened ambassadors in the world, helping others on the journey.
Vision Statement
Vriksha Yoga endeavors to expand its facilities to include world-class yoga retreat centers, educational institutions and yoga practice studios. Little by little we hope to keep spreading the light and philosophy of yoga consciousness, contributing to the yoga community at large and giving back to our global community through karma yoga, by sponsoring social and economical development projects.
Vriksha Yoga aspires to be known globally as the center of excellence for Yoga studies and practices.
---
Vriksha Yoga is a drug-free and alcohol free institution.  Students are highly expected to respect this practice and to refrain from being intoxicated or inebriated on the premises of the school, which also include the students' accommodations. Students not respecting this requirement will be asked to leave the program and will not receive a completion certificate.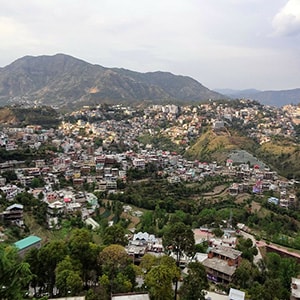 Location
Vriksha Yoga is located in the quaint city of Solan, in the northern state of Himachal Pradesh, known as the land of the gods.